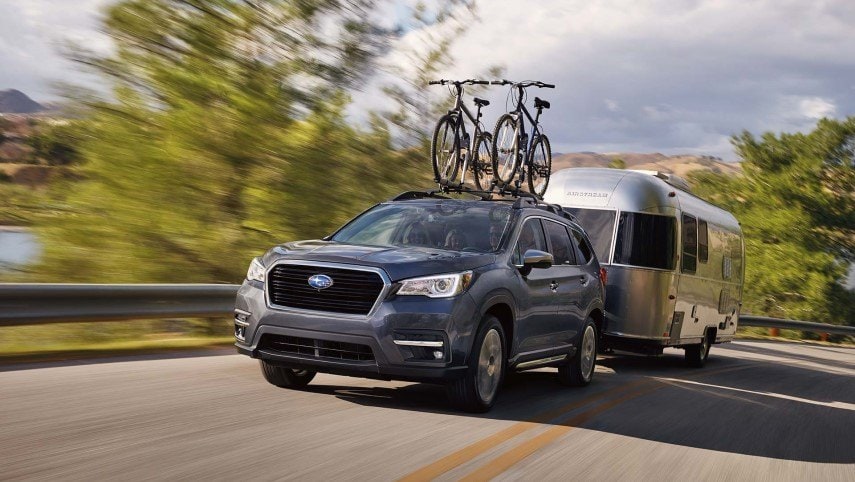 As the summer season approaches, a common question we get asked is "What is my Subaru's towing capacity?". Being the outdoor adventure vehicles they are, it's no surprise that Subaru drivers want to be able to bring along trailers, campers, boats, or any other items on their summer adventures. In this post, we are going to go over some do's and don'ts of towing as well as the capability of Subaru's 2021 SUV line-up.
Knowing Your Capability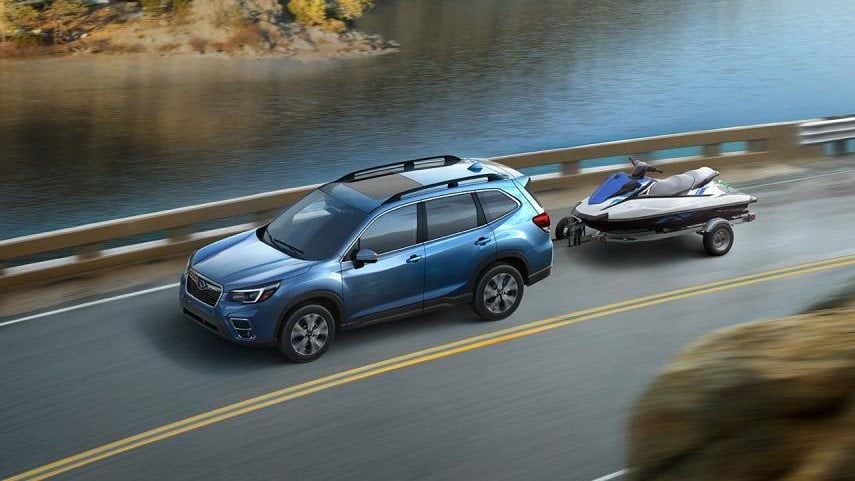 Before you haul your cargo, make sure your vehicle is able to handle the weight of the object you are towing so you can operate the vehicle safely. You can find your Subaru's towing capacity below or in your owner's manual if your vehicle is not listed in this post. Remember, in certain circumstances you may be carrying an additional 1000lbs or more which will affect how your vehicle performs. This means leaving more space between you and the vehicle in front of you to allow for greater braking space. You're vehicle will also need more time to accelerate with the added weight it needs to move.
Reverse maneuvers can be a cause of stress while towing a trailer but just keep in mind that you need to steer the opposite way you're used to steering in order to get the trailer to go in the direction you intend. So essentially, left is right and right is left. Just take your time if you are new to driving with a trailer, other drivers are typically understanding and be sure to signal all of your intentions so they know where you're trying to go.
Towing Wear and Tear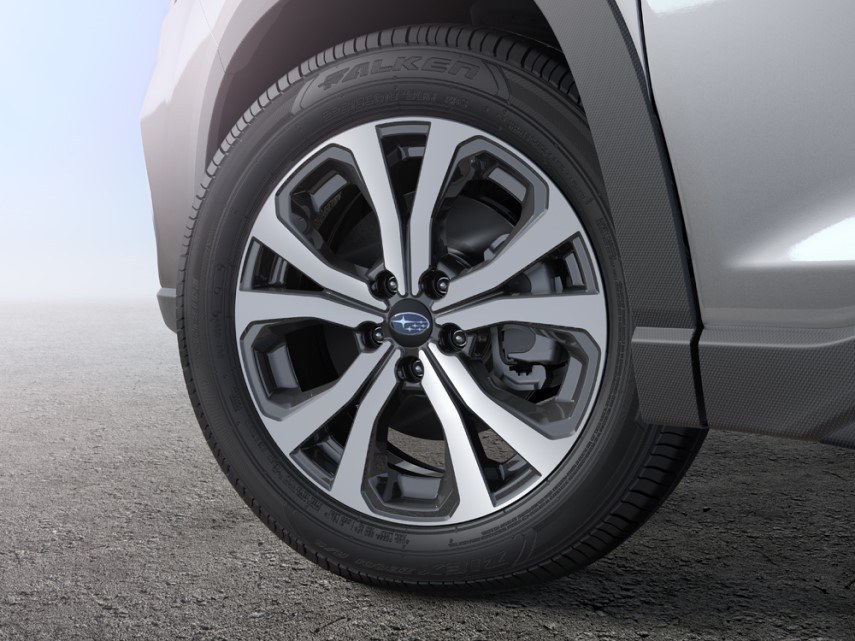 Subaru's are built to last but the added weight from towing a large object can cause wear on some of your vehicles components that you should monitor before you tow. Your tires are one of the components that take more wear when you tow. The increased inflation required for towing as well as the added weight the tires have to account for can cause faster wear on the tires or make any minor tire damage a larger issue. Make sure you inspect your tires prior to towing to make sure they can withstand the additional load.
The next component that experiences additional wear and tear are…you guessed it…the brakes. Slowing down an additional thousand pounds or more puts more strain on the braking system and can wear down the brakes faster than they would with normal use. It's important to make sure your brakes are functioning properly before adding additional weight to the vehicle so that you are able to safely brake while you tow. It is also critical that you do not exceed your Subaru's towing capacity.
Preparation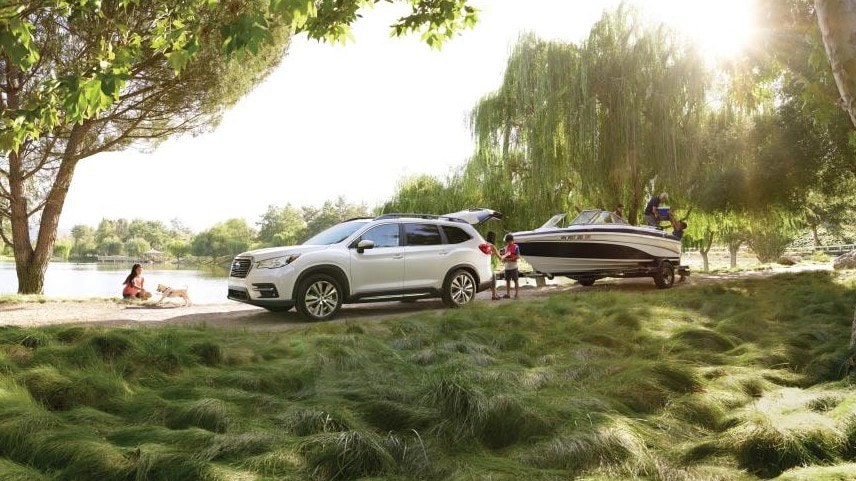 Handling a trailer can be challenging and there are a lot of moving parts so it's important you protect yourself when attaching or detaching your trailer. Close-toe shoes will help to keep your feet protected while moving or adjusting the trailer. Steel-toe shoes will provide even more protection against any foot injuries. You may also want to consider a good pair of work gloves to protect your hands while handling your trailer.
Before you leave, make sure that the trailer is attached properly, the lights are connected and functioning, and everything is tied down so you don't lose any of your cargo while traveling at high speeds. Do a quick walkaround of the trailer and the vehicle before you leave to ensure that everything is connected properly, functioning, and ready for the trip.
2021 Subaru SUV Line-Up Towing Capacity Ratings
| | | | | |
| --- | --- | --- | --- | --- |
| Model | Engine | Max Towing Capacity | Horse-power | Torque |
| 2021 Subaru Crosstrek | 2.0L SUBARU BOXER® 4-cylinder engine | 1,500 lbs | 152 HP | 145 lb-ft. |
| | 2.5L SUBARU BOXER® 4-cylinder engine | 1,500 lbs | 182 HP | 176 lb-ft. |
| 2021 Subaru Forester | 2.5L SUBARU BOXER® 4-cylinder engine | 1,500 lbs | 182 HP | 176 lb-ft. |
| 2021 Subaru Outback | 2.5L SUBARU BOXER® 4-cylinder engine | 2,700 lbs | 182 HP | 176 lb-ft. |
| | 2.4L Turbo SUBARU BOXER® 4-cylinder engine | 3,500 lbs | 270 HP | 277 lb-ft. |
| 2021 Subaru Ascent | 2.4L SUBARU BOXER® 4-cylinder engine | 5,000 lbs | 260 HP | 277 lb-ft |
Peterborough Subaru Can Assist With All of Your Towing Needs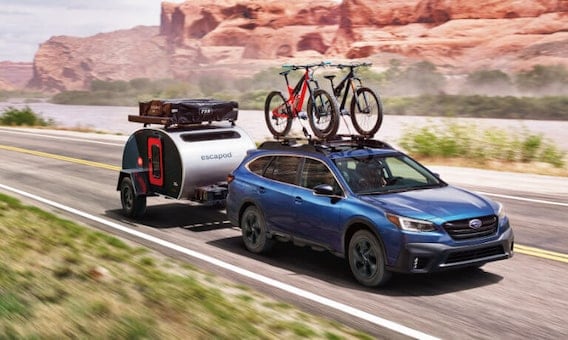 From towing trailers and jet skis to full-size boats and camping trailers, there is a Subaru that can meet your towing needs and get the job done. If you would like to learn more about the ability of the Crosstrek, Forester, Outback, or Ascent, give us a call at (705) 876-6591 and a member of our sales team will be able to assist you. If you would like to inquire about towing packages for your Subaru, you can contact our service department at service@peterboroughsubaru.com or at (705) 876-6591.