Presenting the All-New 2023 Subaru Solterra EV
Presenting the All-New 2023 Subaru Solterra EV
The Solterra EV is an exciting new option as the first all-electric vehicle made by Subaru. As you'd expect from a Subaru, it has incredible performance, standard all-wheel drive, and great capabilities. The new 2023 Subaru Solterra is quite fuel-efficient, modern looking, and spacious inside. We are proud to be presenting the all-new 2023 Subaru Solterra EV for sale in Peterborough. Here's what you need to know about this versatile electric SUV.
The First Global All-Electric SUV from Subaru | A Greener Vision for the Future
This SUV has been built using the e-Subaru Global Platform, which accommodates an electric powertrain. Thanks to dual-electric motors and a robust battery, it can make 215 horsepower and 249 lb-ft of torque. As an eco-friendly vehicle, the 2023 Solterra will never require a trip to the gas station, which your budget will appreciate. The four driving modes are Eco, Normal, Power, and X-Mode, with the latter one being useful in tough terrains. It's equipped with 8.3 inches of ground clearance and standard all-wheel drive that help it deal with rugged conditions. Versatility is a highlight of this SUV. The cabin is appointed with a large touchscreen and smartphone compatibility. The interior offers 2,681 litres of passenger room, and the cargo area feels spacious, too, with a volume of 821 litres. The rear seatbacks easily fold down for even more cargo space, and you can take advantage of the available power rear gate for ease of loading and unloading cargo.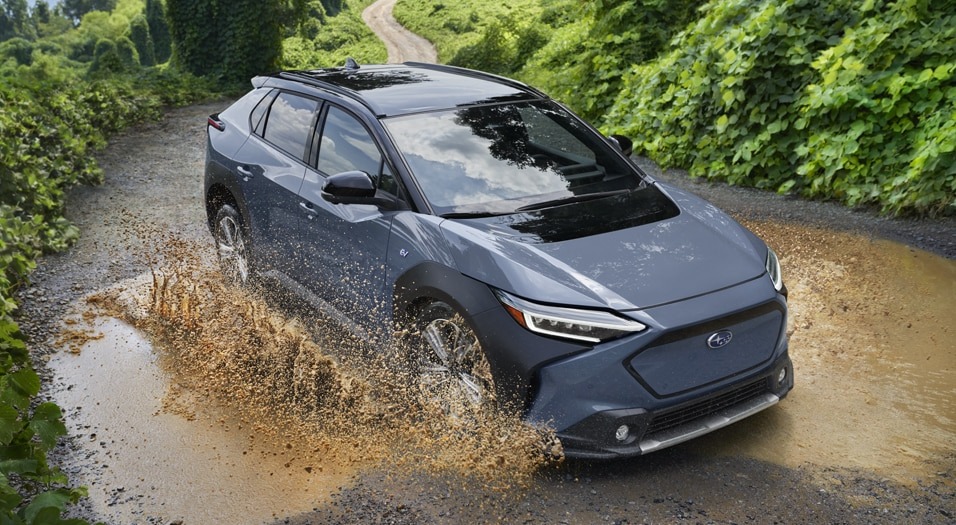 What Range Will the Subaru Solterra Have?
With the 2023 Subaru Solterra, you don't have to worry about range. This incredible electric vehicle has an estimated range of more than 350 kilometres. This gives you the opportunity to confidently take road trips across Canada. If you have a busy week planned with a lot of errands on the schedule, the 2023 Solterra EV can handle that as well. With its advanced technology, you'll be able to keep an eye on your remaining range and easily find public charging stations if you need to make a quick stop.
How Fast Does the Subaru Solterra Charge?
The 2023 Solterra EV can be plugged into a variety of outlets. Many electric-vehicle owners use 240-volt outlets to charge, which is referred to as Level 2 charging. It may take around nine hours to get a full charge with this system, which is perfect for overnight charging. Additionally, the 2023 Solterra can be plugged into a Level 3 DC fast charging station, which many locations around Canada now offer. This would allow you to achieve an 80% charge in less than an hour!
Purchase the All-New 2023 Subaru Solterra EV
There is no better time to get a new electric vehicle than now! Reach out to us for more information about this model and when it will be available at Peterborough Subaru. Learn more about how you can finance a 2023 Subaru Solterra EV. We'll be happy to go over the financing options with you. If you have a vehicle to trade-in, we'll provide you with an appraisal that will help make the new 2023 Subaru Solterra EV more affordable. Reach out to us today!
Inquire About The 2023 Subaru Solterra