SUBARU Certified Pre-Owned
SUBARU Certified pre-owned vehicles include factory warranties, 24-hour roadside assistance, and favorable financing options. We also conduct 152-point inspections performed by trained Subaru technicians and offer a CARFAX Report to ensure safety among your peace of mind.
You can rely on SUBARU Certified pre-owned automobiles thanks to our dedication towards making certain our products are safe before they're driven off our lot.
Factory Warranty
Eligible Subaru vehicles have greater than 6 months and/or 10,000 km remaining on the new vehicle limited warranty (which is 36 months and/or 60,000-km). The vehicles are then sold with the New Vehicle Limited Warranty which can be upgraded to the Subaru Protection Plan should you want to set aside more peace of mind.
If used Subaru vehicles are still under the original new vehicle limited warranty, with less than 6 months or 10,000 kilometers, then these automobiles will be sold with a SUBARU Certified Limited Warranty of 42 months and/or 70,000 kilometers. This warranty can also be upgraded to the Subaru Protection Plan for an extension.
If a vehicle was no longer covered by the New Vehicle Limited Warranty (exceeding 36 months/60,000 kilometers), are up to five model years old, and has been driven less than a total of 100,000 kilometers; then these vehicles will be sold with a 6-month/10,000 kilometer limited warranty. This warranty can be extended with a Subaru Protection Plan.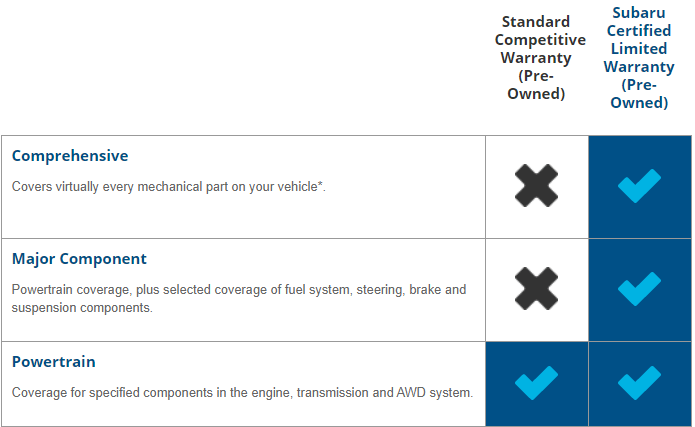 The vehicles we sell that are up to 8 model years old and have between 100,000 kilometers and 160,000 kilometers, are sold with a 3 month and/or 5,000 kilometers limited warranty which can be upgraded with Subaru's Protection Plan.
10-day/1,000 km exchange privilege
Customers can receive a one-time, 10-day and/or 1,000 kilometer exchange opportunity with SUBARU Certified Pre-Owned Vehicles. If you want to have your vehicle in a different colour or instead choose a completely different model, there will be options available.
Unless otherwise indicated, all SUBARU Certified Pre-Owned vehicles can be exchanged from the same dealership within the first 10 days and/or 1,000 kilometers from purchase. The exchange can only be done with a vehicle of equal or lesser value. If the price of the exchanged vehicle comes out to be less than the exchange value of the returned vehicle, then the difference will be offered as credit. If the situation arises in which the replacement vehicle ends up costing more than the value of the car being returned, there is the opportunity to pay the difference.
In order for the exchange to go through, the original vehicle must be returned in the same condition in which it was delivered. All vehicles which are exchanges are inspected by our dealers for damage or excessive wear and tear. If the repairs are $300 or more, the vehicle is ineligible. Non-warranty repairs less than $300 will be deducted from the credit of the returned vehicle.
Other exclusions include vehicles that were a fleet purchase, used for service (such as delivery, taxi, or rental), or had vehicles that were structurally modified or had after-market accessories installed by the customer.
Roadside Assistance
While we're dedicated towards your safety and peace of mind should you purchase any vehicle off our lot, our certified pre-owned selection also includes the SUBARU 360 Customer Assistance for Roadside Emergencies program.
This service includes emergency roadside assistance in both Canada and the United States, and can be extended past the initial allotment that's already included with the purchase of a certified vehicle for a reasonable fee.
Financing Options
"Show me the CARFAX"
Avoid any hidden surprises: each of the SUBARU Certified Pre-Owned Vehicles come with a vehicle history report courtesy of CARFAX®.
The information in the report includes cross-Canada lien information, registration history, and U.S. history. There's also odometer readings, import/export records, and comprehensive Canadian insurance history.
The 152-point inspection
All the SUBARU Certified Pre-Owned vehicles sold at Peterborough Subaru must pass an inspection that's reflective of our upmost standards in your safety.
Any repair or maintenance that's needed is identified and taken care of during this inspection, and are then followed up by a 360-degree review.
For the curious parties, you can view the complete 152-point inspection checklist here.